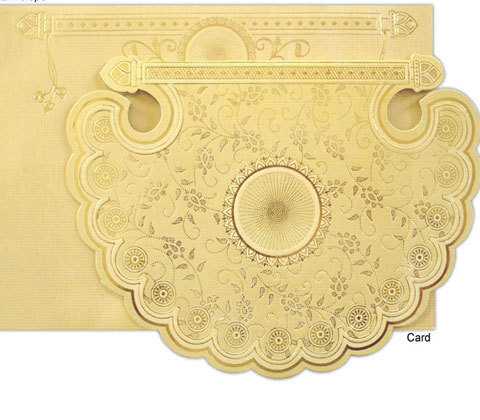 Punjabi Wedding Invitation | Image Resource : tradeindia.com/


As Indians we can hardly believe a wedding without exclusiveness and festivity in the air. Every wedding in this country is celebrated with songs and dance making sure that it is much more than just a marriage of two people. Even the way people invite their guests on a wedding and what is the medium of such invitation also holds special importance in an Indian wedding.
Punjabi wedding invitation covers various ceremonies

Most rituals in a Punjabi wedding begin one month before the main wedding event. All the rituals as well as giving the Punjabi wedding invitation card takes place in the holy Gurudwara. With the accumulation of al friends, family and relatives the ambience begins to be lively right one month before the final wedding.
Some of the many ceremonies which follow after these are the Anand Kuraj, Rokaa, Kudmaai, Haldi, Mehendi, Sangeet, Baraat and the final wedding. Once the wedding is over, individuals let themselves loose and begin celebrating the marriage til they are totally tired.
Various stylized Punjabi marriage requests sent

Double Invitations – Indian wedding cards truly depict the richness of the culture. Like all Indian weddings in a Punjabi wedding invitation, two cards are sent to the guest's one from the groom and the other from the bride. These cards do not usually carry a RSVP. Hence, you can bring along any one and every one with you.
Concept wedding cards – A lot of experiments are happening in the wedding industry in recent times. Like every event these days concept wedding cards are prevalent and really popular. Three dimensional wedding cards with pop ups with small design of rides or swings are in demand these days.
Embellishments – Beautiful branded crystals from Swarovski, gemstones, stones, pearls, laces or rhinestones are used on various wedding cards. This adds grandeur to a Punjabi wedding. These embellished wedding cards although costs extra do make every wedding royal and elegant. Such kind of wedding cards are a good match to the glitz and glamour experienced in a Punjabi marriage ceremony.
Designer handmade crafted cards – A new trend in the area of wedding cards is handmade designer invitations. These cards use elements right from the theme of the Punjabi wedding and use it in the cards. They even match it up with the colour and texture of the attire of the bride.